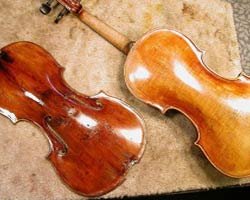 Violin Servicing
Violin Restoration
Violin Soundpost Setting
Violin Bridge Setting
Violin PEG Fixing
Violin Restringing
Note: Servicing Closed on Saturday and Sunday.
Along with the quality instrument sales, we also offer our customers the finest quality violin repairs at competitive prices. Whether you are a beginner or professional, we are your complete source for all of your violin instrument repair needs.

Please contact us with any questions you may have on violins, or to request our services on a violin instrument. We ensure that you receive the finest care and service, whether it is with a violin repair, a purchase or a sale.

Meanwhile, visit our shop sometime soon and check out our growing collection of music instruments.